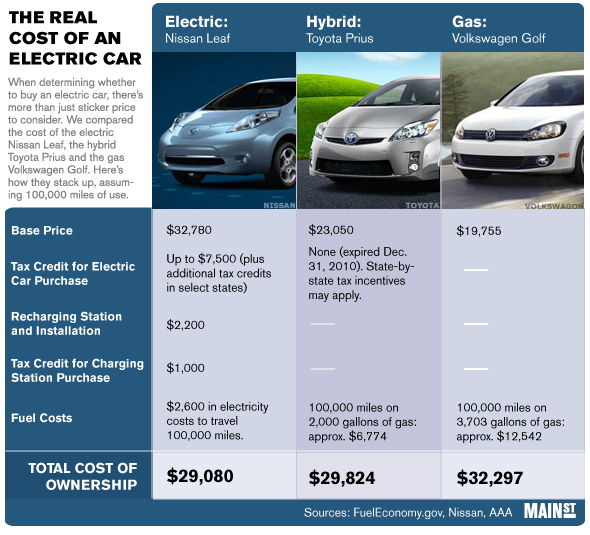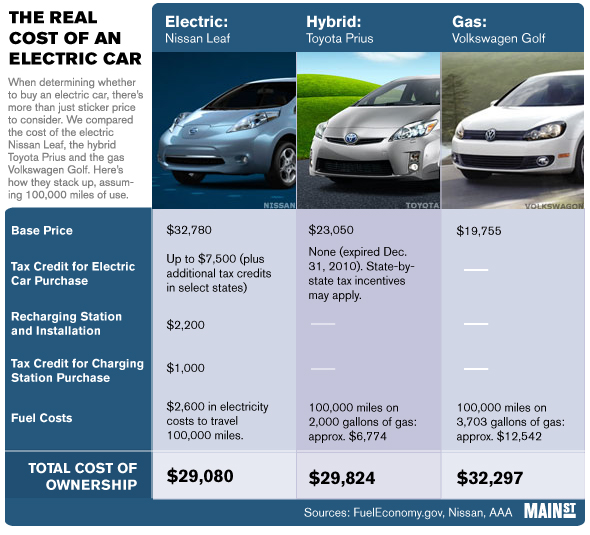 NOTE: Data on this image are those for the US but they mirror those offered by the Ontario Government. Please contact us for details  and for clarification.
Aren't Electric Vehicle's expensive to buy though?
The cost upfront for an electric vehicle is typically higher than a comparative internal combustion engine (ICE) vehicle, but that is only looking at part of the picture. The price for an electric car ranges between $20,000 and $200,000 but in certain provinces you can get up to $8,500 back from the provincial government on the purchase of an electric vehicle. In certain provinces, when you buy an EV, you can also save 50% of the cost of a home/workplace charger including the install or up to $1,000, whichever is lesser amount.
Fleet Managers that are responsible for purchasing and maintaining dozens, hundreds or even thousands of vehicles, are very excited about EVs from a cost savings standpoint. Why? Because they understand TCO or Total Cost of Ownership!
TCO = the price of the vehicle + the price of fuel + maintenance costs
On average, people keep their vehicle for 8 years before trading it or selling it. Over this period EVs can really save owners a lot of money because EVs have fewer moving parts to replace and with an all electric vehicle like a Nissan Leaf for example, there are no oil or filter changes. Because of regenerative braking on EVs, the brakes also last much longer – saving you money in the long run.
So the reality is – an EV can be significantly less to own than conventional vehicles.
On Tuesday Tuesday, Jun. 11 2013, 'The Globe and Mail' published an article on how electric-car makers are lowering prices in a race to catch Toyota's Prius.
To summarize the article:
Nissan Canada Inc. offers a lower-priced version of its Leaf when the 2013 model goes on sale. General Motors of Canada Ltd. offered a seven-year, interest-free loans on the Chevrolet Volt in June 2013. Mitsubishi Motor Sales of Canada Inc. is offering incentives of $5,000 and $8,000 on the two versions of its i-MiEV electric car (NOTE: these sales may still be on or may have expired – check with respective dealers).
The price war comes as new competitors enter what at the moment is a tiny segment of the Canadian market, but one that is expected to grow as auto makers diversify their engine offerings to meet stringent new standards for emissions and fuel economy that will start coming into force in 2017.

Nissan Canada, whose parent Nissan Motor Co. Ltd. has made a multibillion-dollar bet that electric vehicles will be the main alternative to internal combustion-powered cars and trucks, will offer a new, S version of its five-passenger Leaf for $31,698. The SV version, which was the lowest-priced model in 2012 at $38,395, will cost $34,998, a drop of 9 per cent.

The 2013 price includes a quick charger, which was an optional extra on the 2012 SV model. Sales of Leaf models doubled in the first five months of 2013, to 235 from 117 in the same period a year earlier.

Sales of the $42,000 Chevrolet Volt, which is not a pure electric vehicle, slumped 25 per cent in the first five months of the year – to 318 from 421 a year earlier – and plunged 63 per cent in May in Canada
—  Source: 'The Globe and Mail' — Published Tuesday, Jun. 11 2013, 7:23 PM EDT —

Since battery packs are more expensive to produce than combustion engines, the upfront cost of purchasing an electric vehicle tends to be substantially higher than that of a traditional gasoline-operated vehicle.
What are the sales numbers?
David W. Rowlison, the Director for National Dealer Development at Sun Country Highway provided us this data and noted:
"Further to recent discussions – here's some good info on EV numbers in North America. While this mainly addresses USA based numbers, it is as earlier stated widely regarded that on a per capita basis, Canada is actually ahead of the US by about 10-15%… We again suspect it has something to do with the fact that Canadians are more 'predisposed' – as they are and always have been with small – more fuel efficient cars in general, to entertaining electric / hybrid vehicles."
Tags:
Electric Vehicle