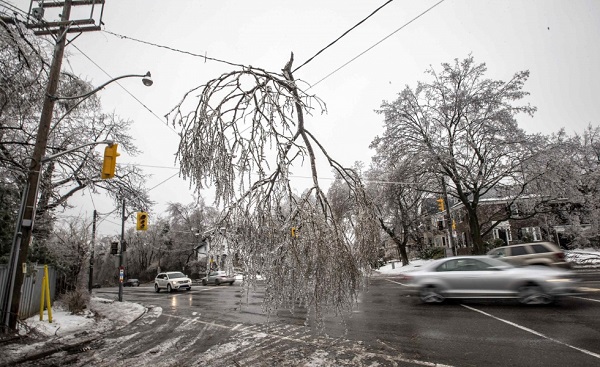 The events of this winter seem the weather in Ontario is playing tricks on its residents. Southern Ontario, Quebec and the Maritimes have been and will be severely hit by massive weather systems (polar vortex). A storm system that stretched from southern Ontario to the Atlantic Coast brought with it freezing rain, and ice which covered Toronto all the way to the Atlantic Coast.
December 2013 headlines from the CBC in the GTA read:
380,000 without power in Ontario, including 264,000 in Toronto
Flights cancelled, delayed at airports from Toronto to St. John's
No street car service in Toronto
Freezing rain warning over in Toronto, but warnings stretch from Ontario to Atlantic Coast
Lets highlight the outages that affected an estimated 380,000 hydro customers in Ontario, including 264,000 in the Greater Toronto Area. The main cause was ice-coated tree branches that snapped, and pulled down power lines as they feel. Lets also remind ourselves that this happened in one of the coldest winters ever to hit the region. This scenario simply meant a "dark Christmas" for some families, while some basically abandoned their homes to spend Christmas with family or friends living in areas where power was available.
The above points paint a clear picture why we should be prepared, and states the fact that living in a densely populated area such as the GTA doesn't necessarily guarantee a 'black out free' ride. SRP Electric advices residents in the Peterborough area and the GTA to purchase and have installed a back-up generator. We recommend using the services of a qualified electrician.
This excerpt explains more:
Home generators are handy for backup electricity in case of an outage, but must only be used in accordance with the manufacturer's guidelines. A back-up generator may only be connected to your home's electrical system through an approved transfer panel and switch that has been installed by a qualified electrician.
To operate a generator safely:
Follow the manufacturer's instructions.
Ensure that the generator operates outdoors in well-ventilated conditions, well away from doors or windows, to prevent exhaust gases from entering the house.
Connect lights and appliances directly to the generator. If extension cords must be used, ensure they are properly rated, CSA-approved cords. (source)
Please contact SRP Electric for a quote on a back up generator today, and please click here for an inventory of available generators.